To change the appearance of the page, edit the styles of the corresponding elements (in most cases by using the "Main Frame" Style Zone).

To change the menu's links: edit, copy-paste, or delete the Link Elements within.

To hide an element without deleting it, use its property

Visible

.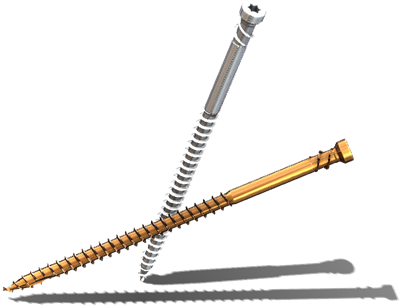 The Re-Fine Screw™ is designed especially for carpenters who do fine professional work. When building the most delicate of projects, contractors prefer U2 Fasteners™ Re-Fine Screw™ for its modest head size.

FEATURES:

With its slim shank and bulging thread this screw can be used without damaging even the hardest wood.
Tapper Point which consists of the Cork Screw Start and Blade Cutting Thread for easy piercing and alleviating strain on the material.
Tight Star Recess system grasps the U-Bit tightly and can be installed with one hand.
AVAILABLE SCREW SIZES:

CASE HARDENED CARBON STEEL

8 X 2"
8 X 2-1/2"
8 X 3-1/8"
9 X 3-1/8"

STAINLESS 316
COMING SOON
To "activate" displaying of an arrow, use its property "Visible"